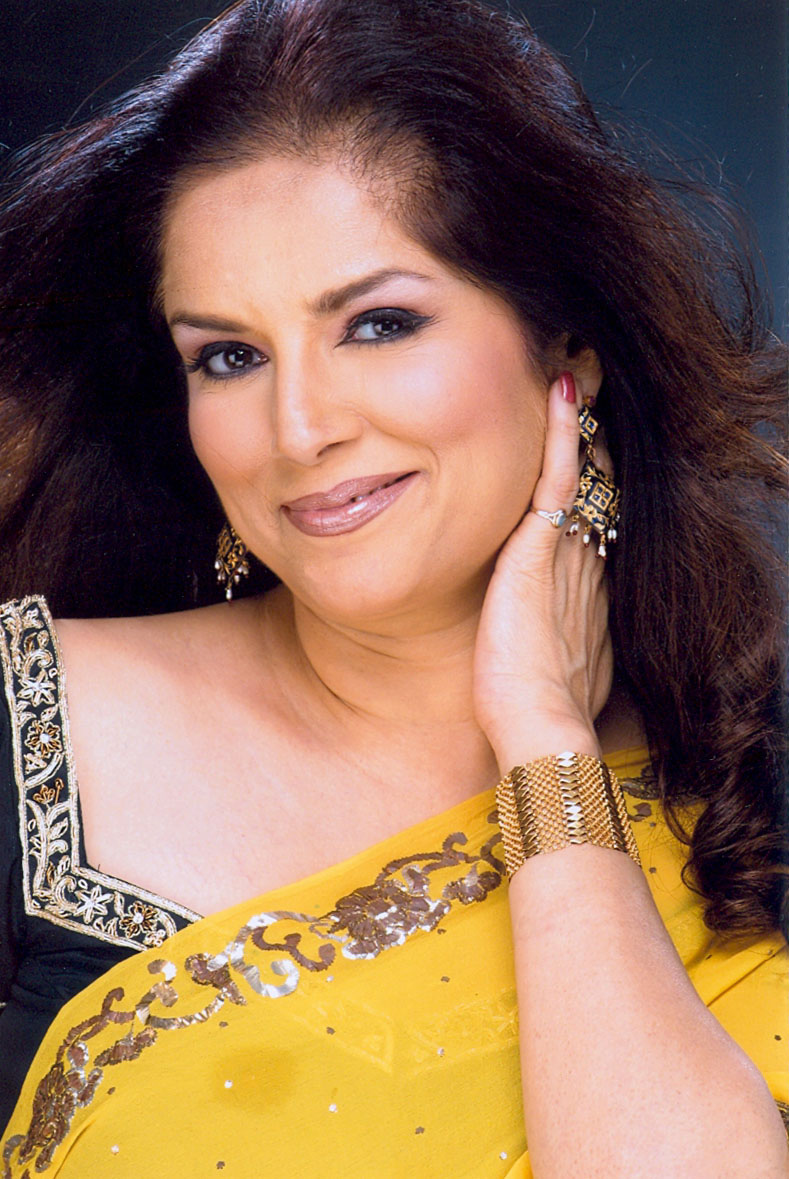 CURRENT WRITE-UP ON LUSHIN DUBEY

LUSHIN DUBEY - Director, Actor, Scriptwriter, Teacher
Lushin Dubey did an M.A. in History, from Lady Shri Ram College, Delhi, and then an M.S. in Education from Southern Connecticut State University, in the U.S, with focus on differently-abled children. After that, for the next 6 years, she was involved in special education for middle and high schoolers, first in the U. S. and then in the American Embassy School in New Delhi, India.

Theatre began for Lushin in grade 4, at St. Mary's School, in Pune, India - when she won her first award at the age 9, at an international inter-school competition. Later, at age 14 yrs, she joined TAG ( Theatre Action Group ) with Barry John as its artistic director.

CHILDREN'S THEATRE
In 1989, whilst still teaching at the American Embassy School in Delhi and running a boutique, 'Girl', with her elder sister Lillete Dubey, Lushin started Kidsworld with her cousin and partner, Bubbles Sabharwal. Together they pioneered children's theatre in India, staging close to 3 productions a year, including classic musicals, as well as originals in English, Hindi and Hinglish. Some of their most popular shows ranged from Rudyard Kipling's, 'Jungle Book', to Dickens', ' Oliver Twist', to Hugo's , ' Les Miserables', to Roald Dahl's 'Matilda', to originals like the Hinglish, ' Jungle Book Se Aage', 'The Ascent of Man' ( a study on World History), 'The Life of Gautama Buddha'( which was also performed at Bodhgaya for the Kalachakra and later for the President of India at the Chinmaya Mission) , the recently scripted and directed, 'Wizwits', which has done close to 200 shows at the 'Kingdom of Dreams' in Gurgaon. This is only a partial list of the prodigious output of Kidsworld.!
Lushin and Bubbles have worked with some of the most prominent names in the corporate world, as sponsors: Tatas, Airtel, Punj Lloyd, Nestle, Britannia, ICICI Bank, Standard and Chartered Bank, Yes Bank.. … among many , many others .

They have directed musicals for many well-known schools of Delhi.

Kidsworld also conducts regular workshops with children, starting from 4 years of age and going up to teenagers and young adults. It has also designed, scripted and directed events for companies such as Suzuki, Ideas, Whirlpool , DLF and others.

For 26 years, Kidsworld has continued giving thousands of children an opportunity on stage..!! be they singers, actors , dancers, young musicians... We have not hesitated to use just about 'any' strength the child has ... from whistling... to tap dancing, to playing the tabla... the guitar .. the flute ... the piano !
Our productions, have travelled to cities in India, such as Mumbai, Kolkatta, Chennai, Bangalore, Chandigarh, Jaipur ..( to name a few ). to overseas... Singapore, the U.S. and Dubai...

On one occasion, we were a cast and crew of 100 artistes who travelled in a plane to Mumbai to perform , sponsored by Punj Lloyd !

THEATRE WORLD: SOLO PERFORMANCES AND PRODUCTIONS WITH ADULTS
Lushin has been prolific on the theatre scene across cities in India, as well as overseas.

She has worked closely with directors from the National School of Drama, Delhi, and has produced and acted in some of the most prominent Shakespearean plays - From 'Portia' , in 'Merchant of Venice', to 'Isabella' in ' Measure for Measure', to ' Lady Macbeth' in 'Macbeth', to 'Desdemona' in ' Othello in Black and White' ( which travelled to the Edinburgh Fringe Festival, in Scotland, UK).

From 2002, Lushin's focus shifted to socially relevant theatre, and she produced many original pieces, several of them solos, which continue to travel extensively : Untitled', on women's empowerment, (380 performances since 2002 ); 'Bitter Chocolate' , on child sexual abuse, based on Pinki Virani's best seller ( 75 performances ) ; 'I Will Not Cry '. on child mortality and women's health care issues in our country ( 12 shows so far ); her most recent solo, 'Aruna's Story ', on the life of the rape victim , the nurse Aruna Shaunbag , and the rape laws that came into effect post her death in 2015, ( it debuted in Sept 2015 ) , based on Pinki Virani's best seller of the same title. In all of these solos, Lushin has worked closely with Arvind Gaur as the director..
Lushin directed and acted as lead in some other powerful socially relevant productions: Muskaan', a perspective on HIV in India, original script by Ritesh Shah, ( 35 shows ); 'Salaam India' , inspired by Mr. Pavan Varma's popular book, 'Being Indian', scripted in the original by Nicholas Kharkongar ( 55 shows ); 'Ji Saab ji ', scripted by Nicholas again, a production highlighting humanism against a background of terrorism (6 shows)

Her productions, especially her solos, have travelled internationally to prestigious institutions, such as the World Bank, ( Washington DC ), The Smithsonian ( Washington DC ), Harvard University, (Cambridge, Massachusetts), Berkeley and Stanford University (California); the Nehru Centre and Waterman's Theatre (London, UK); the Edinburgh Fringe Festival (Scotland, UK); also to Dublin (Ireland), Cairo (Egypt), Muscat.
Currently ' I Will Not Cry', is slated for performances, in July , 2016 , at four major cities in the United States: New York, Chicago, Los Angeles and San Francisco .. as a fund raising event , sponsored by Save the Chidlren..

Lushin , also teaches a yearly course in Theatre and Ethics , at a Business School, SOIL, ( School of Inspired Leadership ), in Gurgaon, New Delhi


TELEVISION SERIALS
1. Kashmeer .. Mrs. Kachru - Lead opposite Farouq Shaikh On Star Plus
2.Rajdhani Chanda - Lead opposite Dalip Tahil On Star Plus Producer, Bobby Bedi


FILMS
1. Murder Unveiled - A CBC ( Canadian Broadcasting Corporation ) film- based on a true story on honour killing Played the role of Kuljeet
2.Partition - Canadian film Mother to lead
3.Socha Na Tha - Abhay Deol's mother
4.Amu - Mother of Konkana Sharma
5.Dil Se Pooch Kidhar Jaana Hai - an art film ..a brothel keeper
6.Perfect Husband - Mother of Parvin Dabass ( this film did not release )
7.Delly Belly - Mother of Shernaz Treasurywallah , Amir Khan Khan Productions
8.Rangrezz – Politician, Priyadarshan Productions
9.Havaizada -
10.Kil Dil - Mother of Parineeti Chopra
11.Eekees Topon Ki Salaami - Politician
12.Saat Uchakkey - yet to be released ( with Manoj Bajpai)
13. Mantra - yet to be released ( Meenakshi, mother of Kalki Koechlin, and wife of Rajat Kapoor).
14. Amazon Web series . 'Made in Heaven' - Zoya Akhtar and Nitya Singh's.
15. 'The Sky is Pink ' - Shonali Bose's film... Played Priyanka Chopra's mother , Mrs. Tandon.

AWARDS
1. 1999 - The Edinburgh Fringe First - In U.K. - For 'Othello in Black and White', which she co-produced and in which she played the role of Desdemona in
2. 2006 - The Gemini Award - Toronto , Canada ( equivalent of the Emmy in the U.S. ) for her role as Kuljeet, in the CBC film, ' Murder Unveiled'
3.2008 - Senior Journalist Award - Best Stage Actress , National.
4.2009 - The Radha Raman Foundation Award - For outstanding and meaningful commitment to Theatre
5.2009- The ICONGO Award (Indian Confederation of NGO's ) for excellent contribution to socially relevnt theatre
6. 2012- Senior Journalist Award - Best Stage Actress, National
7. School of Inspired Leadership Award ( SOIL ) - August , 2016 , ' For being an 'Inspiring Teacher ' at the Business School , in Gurgaon .

OTHER ACTIVITIES
Her book for children, 'Gandhi and the Path to Greatness', was published by Scholastic Publications, and is currently in the libraries of several schools..
She is also on the Board of Directors, of Lemon Tree Hotels, Pvt Ltd, a chain of hotels started by her brother, Mr. Patu Keswani.
Her other interests include painting and sculpture.


PERSONAL
Lushin is married to Professor Pradeep Dubey, Leading Professor in the Center for Game Theory at Stony Brook University , and Visiting Professor at Cowles Foundation, Yale University (USA)

They have two daughters:
Ilina , who completed her MBA from Harvard Business School, Cambridge, USA, and currently works for an Israeli real estate fund, in New Delhi, India..
Tara, who will be completing MBA, from Sloan MIT, Cambridge, USA, in May of this year...

Lushin divides her time between India and the United States...